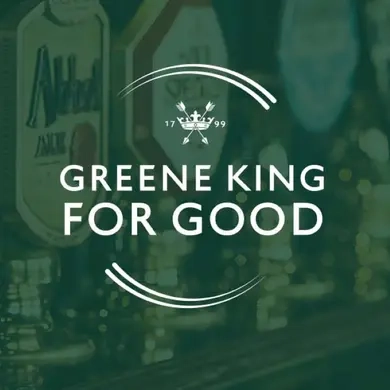 Greene King For Good
At Greene King we are passionate about delivering our purpose to 'pour happiness into lives'.
That's for our customers, our team, our pub partners, our suppliers and the communities in which we live, operate and serve. We know we can make a real and positive difference to the communities and environment around us.
So, under our core value of 'We Care' and together, with 40,000 team members, 1,600 managed pub communities, 1000 partners, and our 5000 suppliers we are committed to making a difference through our Environmental Social Governance programme Greene King for Good.
Our Impact
As Britain's leading pub company and brewer our goal is to be the Pride of British Hospitality. To us this doesn't just mean delivering fantastic customer experiences and serving up award winning beers. It's more than that. It's about Greene King being a positive force for good and having a social purpose that threads through every part of our business.

We are committed to driving social and environmental change and promoting inclusion and diversity within our business, through our partnerships and in the communities we serve.

Our Environmental Social Governance (ESG) strategy, Greene King for Good has three core pillars:
Our environment – caring for our planet
Our communities - being a good neighbour
Our people – creating life opportunities for all through innovative social mobility programmes
Our Environment
Operating in sustainable way so that we minimise our impact on the environment has long been an important driver for Greene King. We have implemented a number of key environmental initiatives including introducing reverse logistic recycling across our managed pub business, awarding us Carbon Trust's Zero Waste to Landfill standard in 2020. We also became the first pub company to work with Too Good to Go anti food waste app, and during the pandemic donated £800,000 of food to foodbanks, not only helping communities but to delivering on our food waste targets too. At Greene King we have our own self supply water licence enabling us to manage water usage carefully and both of our breweries in Bury Edmunds in Suffolk and Dunbar in Scotland have ISO14001 environmental accreditations.

In 2019 we introduced electric vehicle (EV) charging points, installing 1600 across our managed and pub partner car parks, which is an ongoing project.

In 2021 Financial Times and Statista named Greene King as a Europe Climate Leader acknowledging the company has been reporting scope 1 and 2 emissions data since 2014.

In 2019 we committed to Courtauld Commitment 2030 to reduce food waste by 50% by 2030, signing up to Wrap's Food Waste Reduction Roadmap and DEFRA's Step up to the Plate pledges.

In 2020 we became founder members of Zero Carbon Forum, a forum of hospitality and brewing businesses to work collaboratively to reach carbon net zero.

In 2021 we embarked on mapping our carbon footprint to 1.5º in line with Greenhouse Gas (GHG) protocol and SBTIs and will be publishing our carbon net zero targets in Q2 2022.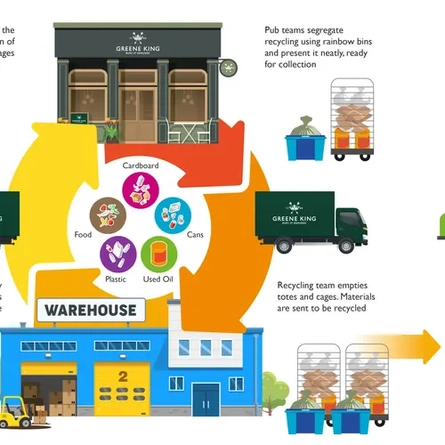 Reverse Logistic Recycling
We have implemented a number of key environmental initiatives including introducing reverse logistic recycling across our managed pub business, awarding us Carbon Trust's Zero Waste to Landfill standard in 2020.
Our People
At Greene King we believe that everyone has a right to great career opportunities. Our Stepping Up Report challenged the barriers of social mobility and gave our commitment to create the best opportunities for individuals from all backgrounds in the hospitality sector.

Our award winning social mobility programmes support:
Apprenticeship opportunities for all. We currently offer 30 different apprenticeships, with over 14,000 apprenticeships completed to date.
Young people from disadvantaged backgrounds into employment through our partnership with The Prince's Trust. We have pledged to create 1000 job opportunities for young people over the next five years, with a target of 40% from black, Asian, and minority ethnic backgrounds. This is forms part of our an ambitious race diversity commitments published in our manifesto Calling Time on Racism.
Ex-offenders and people experiencing homelessness into fulfilling careers through our Releasing Potential programme. Launched in 2018 and working with Ministry of Justice, Only a Pavement Away, New Futures Network and Novus, 74 teams members have joined Greene King through this programme.
People with learning disabilities or difficulties into work through our Supported Internships programme
View our parent company CK Asset's 2022 Sustainability Report featuring Greene King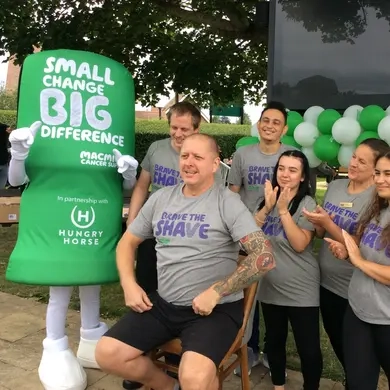 Our Communities
The pub has been a quintessential part of British life for generations; the very centre piece of community life. A welcome retreat, a place to laugh, to celebrate and to just be. Where old friendships blossom and new ones are made; where ideas spring and camaraderie is fostered; where relationships bond and communities grow. The pub is like a warm hug whose arms are open wide, always ready to embrace.
At Greene King we believe community is now more important in our lives than ever before so through our pubs, breweries, depots and offices we support our communities in two important ways:
By supporting people living with cancer in the communities in which we operate, through our national charity partnership with Macmillan Cancer Support
By helping to combat loneliness through our No One Alone programme.
We are proud to have worked with Macmillan Cancer Support as our national charity partner since 2012, becoming their number one employee led fundraising corporate partner. Our teams and customers have since raised over £10 million for Macmillan Cancer Support; £1.2m in September and October 2021 alone. Our partnership has since evolved with many Greene King team members becoming Macmillan volunteers, supporting people living with cancer as trained telephone buddies. In 2022 we will be celebrating 10 years successful partnership.
Modern Slavery
Providing good and safe work is a priority at Greene King and in 2021 we completed a full modern slavery gap analysis of our business.
Read our modern slavery statement
Responsible Retailing
We encourage customers to visit our Enjoy Responsibly page for information and advice on responsible drinking and Greene King's actions for responsible retailing. We follow as a minimum, the 'Challenge 21' scheme or 'Challenge 25' in our pubs and our tills remind our team members behind the bar to check. What's more, all of our new bar team members have to complete our training before they can serve alcohol, so that they understand their legal responsibilities and obligations, as well as the impact of alcohol on children.
We operate Ask Angela scheme across our managed pub estate supporting our teams with training to help customers if they find themselves in vulnerable situations.
Allergens and Gluten
We want our guests with allergies and intolerances to feel comfortable in our pubs and restaurants, and trust our food. Our team members are trained to help them better understand allergens. We also provide full allergen information in all our pubs, restaurants and hotels, so that our customers can make more informed meal choices. We're proud of our expanding non-gluten range – it's bigger than ever before!
Healthy Eating
Our aim is to serve great-tasting, quality food and to give customers a choice of a wide range of
menu options that support a healthy balanced diet
. Many of our menus now offer at least ten dishes that are under 500 calories.
We want to help parents feed their children healthy meals. Our kids' menus offer fresh fruit, salad and fresh vegetables, in line with the five-a-day government strategy on dealing with obesity. We are also signed up to eight pledges in the Government's Public Health Responsibility Deal.