Student Discount Worth Shouting About
Are you a first year Fresher, looking for a great place to meet new people with brilliant student deals? Or maybe this isn't your first rodeo, and you know your local Greene King the place to be for students in your area?

Either way we've got plenty on offer for you all this year!
(*T&Cs Apply)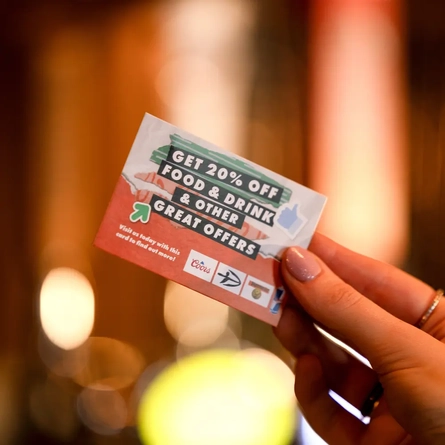 Fancy 20% Off?
We know students want to get the most out of their money. So anyone who shows their valid Student ID at the bar can grab themselves one of our 20% off Student cards!
That means 20% off all food and drinks at our pub, all year round! So what are you waiting for? Get yourself down to the pub and grab a great deal!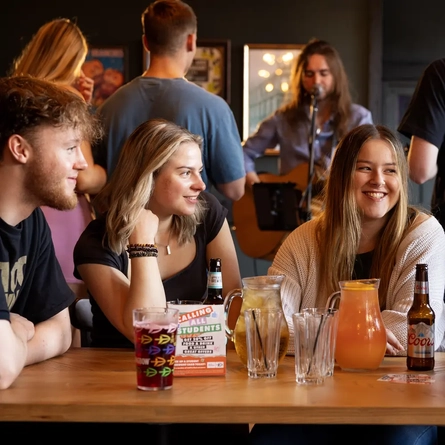 There's always something going on...
At A Greene King Student Pub
We're always hosting great events for our student community with some bargain prices on your boozy favourites! From Karaoke, Bingo and Quiz Nights to Society Socials, Movie Nights and Live Music – you'll never be bored at a Greene King pub!
Terms & Conditions
Locals Student Deal Ts&Cs

20% Off Student Discount card

Valid from 1st September 2023 to 31st August 2024 at selected Greene King pubs only. Offer only redeemable with a valid student card. Minimum spend of £1 applies. Valid to a maximum discount value of £20. Alcohol for over 18s only – proof of ID may be requested. We reserve the right to amend, cancel or withdraw this offer at any time. Not to be used in conjunction with any other promotion or offer. Manager's decision is final. See greeneking-pubs.co.uk/student-dis­count/ for full details of participating pubs, current drink offers along with terms and conditions. Promoter: Greene King Brewing and Retailing Ltd, Sunrise House, Ninth Avenue, Burton upon Trent, Staffordshire, DE14 3JZ.

Discounted Student Drinks deal

You must show a valid student ID to your server to redeem this offer. This offer allows students to purchase selected draught pints, spirit and mixer and 175ml house wine for £3.00 and selected bottles for £2.50. UK residents only, aged 18+. All products are subject to availability. This offer is valid on dates specified by the pub, during the pub's regular opening hours. This offer cannot be used on the Greene King app. This offer cannot be used in conjunction with any other offer, deal or promotion, including Greene King employee vouchers or Greene King friend & family vouchers. This offer is subject to availability while stocks last and the manager reserves the right to cancel, amend or withdraw this offer at any time. No cash alternative. This offer is not transferable. We remind customers to drink responsibly. Promoter: Greene King Brewing and Retailing Limited, Sunrise House, Ninth Avenue, Burton upon Trent, Staffordshire, DE14 3JZ. This offer includes the following products:

| | |
| --- | --- |
| £3.00 Drinks | £2.50 Drinks |
| 25ml Absolut Original & Mixer | All Thatchers Cider and 0.0% bottles |
| 25ml Beefeater (All Flavours) & Mixer | All Old Mout Cider and 0.0% Bottles |
| 25ml Jack Daniels (All Flavours) & Mixer | All Rekorderlig Cider and 0.0% Bottles |
| 25ml Bacardi (All Flavours) & Mixer | All Bulmers Cider Bottles |
| 1 Pt Strongbow | All Kopparberg Cider and 0.0% bottles |
| 1 Pt Strongbow Dark Fruits | All VK Bottles |
| 1 Pt Stella | Desperados bottle |
| 1 Pt Carling | Heineken and 0.0% bottle |
| 1 Pt Fosters | Peroni Nastro Azzurro, Peroni gluten free, Peroni Capri and Peroni 0.0% Bottle |
| 1 Pt Thatchers | Pink Hooch |
| 1 Pt Madri | Sol Bottle |
| 1 Pt San Miguel | Ice Breaker Bottle |
| 1 Pt Guinness | Old-Speckled Hen Bottle and 0.0% |
| 1 Pt Tennents | Brewdog Punk IPA |
| 1 Pt Carlsberg | Level Head Can |
| 1 Pt Coors Light | Flint Eye Can |
| 1 Pt John Smith | Blue moon Bottle |
| 1 Pt Ice Breaker | |
| 1 Pt Level Head | |
| 1 Pt Flint Eye | |
| 1 Pt Amstel | |
| 175ml El Mazo Wine all colours | |

2 Cocktails for £8.00 Student offer (England & Wales)

You must show a valid student ID to your server to redeem this offer. This offer allows students to purchase two (2) cocktails for £8.00. UK residents only, aged 18+. This offer includes all cocktails that are available on the standard drinks menu and does not include pitchers. The two cocktails do not have to be the same to activate the deal. All products are subject to availability. This offer is valid on dates specified by the pub, during the pub's regular opening hours. This offer cannot be used on the Greene King app. This offer cannot be used in conjunction with any other deal, including Greene King employee vouchers or Greene King friend & family vouchers. This offer is subject to availability while stocks last and the manager reserves the right to cancel, amend or withdraw this offer at any time. No cash alternative. This offer is not transferable. We remind customers to drink responsibly. Promoter: Greene King Brewing and Retailing Limited, Sunrise House, Ninth Avenue, Burton upon Trent, Staffordshire, DE14 3JZ

1 Cocktail for £4.00 Student Offer (Scotland)

You must show a valid student ID to your server to redeem this offer. This offer allows students to purchase one (1) cocktail for £4.00. UK residents only, aged 18+. This offer includes all cocktails that are available on the standard drinks menu and does not include pitchers. All products are subject to availability. This offer is valid on dates specified by the pub, during the pub's regular opening hours. This offer cannot be used on the Greene King app. This offer cannot be used in conjunction with any other deal, including Greene King employee vouchers or Greene King friend & family vouchers. This offer is subject to availability while stocks last and the manager reserves the right to cancel, amend or withdraw this offer at any time. No cash alternative. This offer is not transferable. We remind customers to drink responsibly. Promoter: Greene King Brewing and Retailing Limited, Sunrise House, Ninth Avenue, Burton upon Trent, Staffordshire, DE14 3JZ

2 Cocktails for £6.00 Student offer (England & Wales)

You must show a valid student ID to your server to redeem this offer. This offer allows students to purchase two (2) cocktails for £6.00. UK residents only, aged 18+. This offer includes all cocktails that are available on the standard drinks menu and does not include pitchers. The two cocktails do not have to be the same to activate the deal. All products are subject to availability. This offer is valid on dates specified by the pub, during the pub's regular opening hours. This offer cannot be used on the Greene King app. This offer cannot be used in conjunction with any other deal, including Greene King employee vouchers or Greene King friend & family vouchers. This offer is subject to availability while stocks last and the manager reserves the right to cancel, amend or withdraw this offer at any time. No cash alternative. This offer is not transferable. We remind customers to drink responsibly. Promoter: Greene King Brewing and Retailing Limited, Sunrise House, Ninth Avenue, Burton upon Trent, Staffordshire, DE14 3JZ

1 Cocktail for £3.00 Student Offer (Scotland)

You must show a valid student ID to your server to redeem this offer. This offer allows students to purchase one (1) cocktail for £3.00. UK residents only, aged 18+. This offer includes all cocktails that are available on the standard drinks menu and does not include pitchers. All products are subject to availability. This offer is valid on dates specified by the pub, during the pub's regular opening hours. This offer cannot be used on the Greene King app. This offer cannot be used in conjunction with any other deal, including Greene King employee vouchers or Greene King friend & family vouchers. This offer is subject to availability while stocks last and the manager reserves the right to cancel, amend or withdraw this offer at any time. No cash alternative. This offer is not transferable. We remind customers to drink responsibly. Promoter: Greene King Brewing and Retailing Limited, Sunrise House, Ninth Avenue, Burton upon Trent, Staffordshire, DE14 3JZ

2 Cocktail Pitchers for £16.00 Student offer (England & Wales)

You must show a valid student ID to your server to redeem this offer. This offer allows students to purchase two (2) cocktail pitchers for £16.00. UK residents only, aged 18+. This offer includes all cocktails that are available in a pitcher serving on the standard drinks menu. The two cocktail pitchers do not have to be the same to activate the deal. All products are subject to availability. This offer is valid on dates specified by the pub, during the pub's regular opening hours. This offer cannot be used on the Greene King app. This offer cannot be used in conjunction with any other deal, including Greene King employee vouchers or Greene King friend & family vouchers. This offer is subject to availability while stocks last and the manager reserves the right to cancel, amend or withdraw this offer at any time. No cash alternative. This offer is not transferable. We remind customers to drink responsibly. Promoter: Greene King Brewing and Retailing Limited, Sunrise House, Ninth Avenue, Burton upon Trent, Staffordshire, DE14 3JZ

1 Cocktail Pitcher for £8.00 Student Offer (Scotland)

You must show a valid student ID to your server to redeem this offer. This offer allows students to purchase one (1) cocktail pitcher for £8. UK residents only, aged 18+. This offer includes all cocktails that are available in a pitcher serving on the standard drinks menu. All products are subject to availability. This offer is valid on dates specified by the pub, during the pub's regular opening hours. This offer cannot be used on the Greene King app. This offer cannot be used in conjunction with any other deal, including Greene King employee vouchers or Greene King friend & family vouchers. This offer is subject to availability while stocks last and the manager reserves the right to cancel, amend or withdraw this offer at any time. No cash alternative. This offer is not transferable. We remind customers to drink responsibly. Promoter: Greene King Brewing and Retailing Limited, Sunrise House, Ninth Avenue, Burton upon Trent, Staffordshire, DE14 3JZ

2 Cocktail Pitchers for £12.00 Student offer (England & Wales)

You must show a valid student ID to your server to redeem this offer. This offer allows students to purchase two (2) cocktail pitchers for £12.00. UK residents only, aged 18+. This offer includes all cocktails that are available in a pitcher serving on the standard drinks menu. The two cocktail pitchers do not have to be the same to activate the deal. All products are subject to availability. This offer is valid on dates specified by the pub, during the pub's regular opening hours. This offer cannot be used on the Greene King app. This offer cannot be used in conjunction with any other deal, including Greene King employee vouchers or Greene King friend & family vouchers. This offer is subject to availability while stocks last and the manager reserves the right to cancel, amend or withdraw this offer at any time. No cash alternative. This offer is not transferable. We remind customers to drink responsibly. Promoter: Greene King Brewing and Retailing Limited, Sunrise House, Ninth Avenue, Burton upon Trent, Staffordshire, DE14 3JZ

1 Cocktail Pitcher for £6.00 Student Offer (Scotland)

You must show a valid student ID to your server to redeem this offer. This offer allows students to purchase one (1) cocktail pitcher for £6.00. UK residents only, aged 18+. This offer includes all cocktails that are available in a pitcher serving on the standard drinks menu. All products are subject to availability. This offer is valid on dates specified by the pub, during the pub's regular opening hours. This offer cannot be used on the Greene King app. This offer cannot be used in conjunction with any other deal, including Greene King employee vouchers or Greene King friend & family vouchers. This offer is subject to availability while stocks last and the manager reserves the right to cancel, amend or withdraw this offer at any time. No cash alternative. This offer is not transferable. We remind customers to drink responsibly. Promoter: Greene King Brewing and Retailing Limited, Sunrise House, Ninth Avenue, Burton upon Trent, Staffordshire, DE14 3JZ

Buy One Get One Free Breakfast Student Offer

You must show a valid student ID to your server to redeem this offer. Buy a breakfast dish and get a second free. Cheapest item free. Valid on dates specified by the pub. Whilst stocks last. No cash alternative. Offer can not be combined with any other offer, promotion or discount. Any extras or additions must be paid for separately. Greene King reserves the right to withdraw or amend the offer at any time. Not redeemable on the Greene King App. Promoter: Greene King Brewing and Retailing Ltd, Sunrise House, Ninth Avenue, Burton upon Trent, Staffordshire, DE14 3JZ. Valid on the following breakfast items:

| | | |
| --- | --- | --- |
| P&S | FG | PL |
| Big Breakfast | Full English Breakfast | Epic Full English Breakfast |
| Big Vegetarian Breakfast | Full Scottish Breakfast | Full English Breakfast |
| Traditional English Breakfast | Vegetarian Breakfast | Epic Full Scottish Breakfast |
| Traditional Scottish Breakfast | XL Full English Breakfast | Full Scottish Breakfast |
| Vegetarian Breakfast | XL Full Scottish Breakfast | Vegetarian Breakfast |
| Breakfast Roll | Kids Breakfast | Vegan Breakfast |
| Breakfast Wrap | Texan Style Tater Tots – Free-Range Fried Egg | Beans on Toast |
| Vegan Breakfast Wrap | Texan Style Tater Tots – Beef Burnt Ends | Scrambled egg on Toast |
| Proper Bacon Sandwich | Breakfast Tacos | Build your own Butty |
| Fruit Crumpets | 8oz* Rump Steak, Eggs & Chips | Toast & Preserves |
| Bacon, Egg & Avocado Crumpets | Pancakes | |
| Avocado & Egg Crumpets | Pan-chos | |
| Kids Breakfast | Bacon Sandwich | |
| Breakfast Sharer | Pork Sausage Sandwich | |
| Toasted White Bloomer Bread & Butter (Scotland Only) | Quorn Sausage Sandwich | |
| Bacon & Scrambled Eggs (Scotland Only) | Beans on Toast | |
| | Scrambled Eggs on Toast | |
| | Toast & Preserves | |
| | Lorne Sausage Sandwich (Scotland Only) | |
| | Quorn Lorne Sausage Sandwich (Scotland Only) | |

Buy One Get One Free Burgers Student Offer

You must show a valid student ID to your server to redeem this offer. Buy a burger and get a second free. The Burgers ordered do not need to be the same and you will get the cheapest item free. Valid on dates specified by the pub. Whilst stocks last. No cash alternative. Offer can not be combined with any other offer, promotion or discount. Any extras or additions must be paid for separately. Greene King reserves the right to withdraw or amend the offer at any time. Not redeemable on the Greene King App. Promoter: Greene King Brewing and Retailing Ltd, Sunrise House, Ninth Avenue, Burton upon Trent, Staffordshire, DE14 3JZ. Valid on the following burgers:

| | | |
| --- | --- | --- |
| P&S | FG | PL |
| Cheese & Bacon Burger | Flame-Grilled Beef | Build Your Own Burger – Beef Burger |
| Classic Beef Burger | Flame-Grilled Cheese | Build Your Own Burger – Southern Fried Chicken |
| Bacon & Blue Burger | Flame-Grilled Cheese & Bacon | Build Your Own Burger – Quorn Buttermilk Style Burger |
| Balmoral Burger | Southern Fried Chicken | |
| Beyond Meat Burger (v) | All American Burger | |
| Beyond Meat Burger (ve) | Beyond Burger | |
| Southern Fried Chicken Burger | | |

Free Fizz on Graduation Day for Student Bookings (England and Wales)

Promotion open to UK residents only, aged 18+

The customer is entitled to one free bottle of Giorgio & Gianni prosecco when four main meals are purchased at full price on one transaction on Graduation Day.

Valid on Graduation Days only during food service hours. You may be asked to show a valid student ID as proof of your graduation. This offer is at participating pubs only and must be requested prior to payment.

Offer cannot be combined with any other offer, promotion or discount

Only one free bottle is allowed per person, per transaction.

Whilst stocks last.

No cash alternative. Voucher

is not transferable. Copied, forwarded or damaged vouchers will not be accepted.

Greene King reserves the right to withdraw or amend the offer at any time. Manager's discretion is final.

We remind anyone

participating in

promotion to drink responsibly. Please visit

www.greeneking.co.uk/enjoy-responsibly

for the facts.

Subject to English law and the exclusive jurisdiction of the English courts.

Promoter: Greene King Brewing and Retailing Ltd, House, Ninth Avenue, Burton upon Trent, Staffordshire, DE14 3JZ.

12 for £42.00 Bottle Bundle Deal for Sponsored Student Societies (England and Wales)

To redeem this offer you must be a member of the society sponsored by the Greene King Pub you are redeeming the offer in. A valid student ID may be requested. This offer allows society/sports team members to purchase twelve (12) bottles for £42.00. UK residents only, aged 18+. The twelve bottles do not have to be the same to activate the deal. All products are subject to availability. This offer is valid from 1st September 2023 to 31st August 2024, during the pub's regular opening hours. This offer cannot be used on the Greene King app. This offer cannot be used in conjunction with any other deal, including Greene King employee vouchers or Greene King friend & family vouchers. This offer is subject to availability while stocks last and the manager reserves the right to cancel, amend or withdraw this offer at any time. No cash alternative. This offer is not transferable. We remind customers to drink responsibly. Promoter: Greene King Brewing and Retailing Limited, Sunrise House, Ninth Avenue, Burton upon Trent, Staffordshire, DE14 3JZ

This offer includes the following bottles:

All Thatchers Cider bottles (including 0.0%)

All Old Mout Cider bottles (including 0.0%)

All Rekorderlig Cider bottles (including 0.0%)

All Kopparberg Cider bottles (including 0.0%)

All Bulmers Cider Bottles

All VK Bottles

Desperados bottle

Heineken and 0.0% bottle

Peroni Nastro Azzurro, Peroni gluten free, Peroni Capri and Peroni 0.0% Bottles

Guinness 0.0%

Sol Bottle

Ice Breaker Bottle

Old-Speckled Hen Bottle

Brewdog Punk IPA

Level Head Can

Flint Eye Can

Blue moon Bottle

All Hooch cans

Crabbies Ginger Beer Bottle

Brooklyn Special Effect Alc Free Bottle

1 for £3.50 Bottle Deal for Sponsored Student Societies (Scotland)

To redeem this offer you must be a member of the society or sports club sponsored by the Greene King Pub you are redeeming the offer in. A valid student ID may be requested. This offer allows society/sports team members to purchase one (1) bottle for £3.50. UK residents only, aged 18+. All products are subject to availability. This offer is valid from 1st September 2023 to 31st August 2024, during the pub's regular opening hours. This offer cannot be used on the Greene King app. This offer cannot be used in conjunction with any other deal, including Greene King employee vouchers or Greene King friend & family vouchers. This offer is subject to availability while stocks last and the manager reserves the right to cancel, amend or withdraw this offer at any time. No cash alternative. This offer is not transferable. We remind customers to drink responsibly. Promoter: Greene King Brewing and Retailing Limited, Sunrise House, Ninth Avenue, Burton upon Trent, Staffordshire, DE14 3JZ

This offer includes the following bottles:

All Thatchers Cider bottles (including 0.0%)

All Old Mout Cider bottles (including 0.0%)

All Rekorderlig Cider bottles (including 0.0%)

All Kopparberg Cider bottles (including 0.0%)

All Bulmers Cider Bottles

All VK Bottles

Desperados bottle

Heineken and 0.0% bottle

Peroni Nastro Azzurro, Peroni gluten free, Peroni Capri and Peroni 0.0% Bottles

Guinness 0.0%

Sol Bottle

Ice Breaker Bottle

Old-Speckled Hen Bottle

Brewdog Punk IPA

Level Head Can

Flint Eye Can

Blue moon Bottle

All Hooch cans

Crabbies Ginger Beer Bottle

Brooklyn Special Effect Alc Free Bottle

12 for £36.00 Bottle Bundle Deal for Sponsored Student Societies (England and Wales)

To redeem this offer you must be a member of the society sponsored by the Greene King Pub you are redeeming the offer in. A valid student ID may be requested. This offer allows society/sports team members to purchase twelve (12) bottles for £36.00. UK residents only, aged 18+. The twelve bottles do not have to be the same to activate the deal. All products are subject to availability. This offer is valid from 1st September 2023 to 31st August 2024, during the pub's regular opening hours. This offer cannot be used on the Greene King app. This offer cannot be used in conjunction with any other deal, including Greene King employee vouchers or Greene King friend & family vouchers. This offer is subject to availability while stocks last and the manager reserves the right to cancel, amend or withdraw this offer at any time. No cash alternative. This offer is not transferable. We remind customers to drink responsibly. Promoter: Greene King Brewing and Retailing Limited, Sunrise House, Ninth Avenue, Burton upon Trent, Staffordshire, DE14 3JZ

This offer includes the following bottles:

All Thatchers Cider bottles (including 0.0%)

All Old Mout Cider bottles (including 0.0%)

All Rekorderlig Cider bottles (including 0.0%)

All Kopparberg Cider bottles (including 0.0%)

All Bulmers Cider Bottles

All VK Bottles

Desperados bottle

Heineken and 0.0% bottle

Peroni Nastro Azzurro, Peroni gluten free, Peroni Capri and Peroni 0.0% Bottles

Guinness 0.0%

Sol Bottle

Ice Breaker Bottle

Old-Speckled Hen Bottle

Brewdog Punk IPA

Level Head Can

Flint Eye Can

Blue moon Bottle

All Hooch cans

Crabbies Ginger Beer Bottle

Brooklyn Special Effect Alc Free Bottle

1 for £3.00 Bottle Deal for Sponsored Student Societies (Scotland)

To redeem this offer you must be a member of the society or sports club sponsored by the Greene King Pub you are redeeming the offer in. A valid student ID may be requested. This offer allows society/sports team members to purchase one (1) bottle for £3.00. UK residents only, aged 18+. All products are subject to availability. This offer is valid 1st September 2023 to 31st August 2024, during the pub's regular opening hours. This offer cannot be used on the Greene King app. This offer cannot be used in conjunction with any other deal, including Greene King employee vouchers or Greene King friend & family vouchers. This offer is subject to availability while stocks last and the manager reserves the right to cancel, amend or withdraw this offer at any time. No cash alternative. This offer is not transferable. We remind customers to drink responsibly. Promoter: Greene King Brewing and Retailing Limited, Sunrise House, Ninth Avenue, Burton upon Trent, Staffordshire, DE14 3JZ

This offer includes the following bottles:

All Thatchers Cider bottles (including 0.0%)

All Old Mout Cider bottles (including 0.0%)

All Rekorderlig Cider bottles (including 0.0%)

All Kopparberg Cider bottles (including 0.0%)

All Bulmers Cider Bottles

All VK Bottles

Desperados bottle

Heineken and 0.0% bottle

Peroni Nastro Azzurro, Peroni gluten free, Peroni Capri and Peroni 0.0% Bottles

Guinness 0.0%

Sol Bottle

Ice Breaker Bottle

Old-Speckled Hen Bottle

Brewdog Punk IPA

Level Head Can

Flint Eye Can

Blue moon Bottle

All Hooch cans

Crabbies Ginger Beer Bottle

Brooklyn Special Effect Alc Free Bottle

Reduced Buffet Price Offer for Sponsored Student Societies

To redeem this offer you must be a member of the society or sports club sponsored by the Greene King Pub you are redeeming the offer in. A valid student ID may be requested. This offer allows society/sports team members to purchase the standard finger buffet package at a reduced price per person. Available when booked in advance only, minimum number of 10 people per booking. UK residents only, aged 18+. All products are subject to availability. This offer is valid from 1st September 2023 to 31st August 2024, during the pub's regular opening hours. This offer cannot be used on the Greene King app. This offer cannot be used in conjunction with any other deal, including Greene King employee vouchers or Greene King friend & family vouchers. This offer is subject to availability while stocks last and the manager reserves the right to cancel, amend or withdraw this offer at any time. No cash alternative. This offer is not transferable. Promoter: Greene King Brewing and Retailing Limited, Sunrise House, Ninth Avenue, Burton upon Trent, Staffordshire, DE14 3JZ. The offer entitles society members to the following price:

| | | | | | |
| --- | --- | --- | --- | --- | --- |
| If your pubs standard Finger Buffet price is | £9.95pp | £10.95pp | £11.95pp | £12.95pp | £13.95pp |
| Student Society price will be | £8.00pp | £8.75pp | £9.50pp | £10.25pp | £11.25pp |

£10.00 Pub Desk Deal

This offer entitles the customer to one lunch dish (from 12pm-5pm) and a selection of unlimited drinks (from 9am to 5pm) for £10.00 per person per day. Unlimited drinks can be chosen from the following list: standard americano, standard tea, Standard Draught Diet Coke, Standard Draught Coca-Cola Zero sugar, Standard Draught Schweppes Lemonade. UK residents only, aged 18+. All products are subject to availability. This offer is valid Monday to Friday, from 1st September 2023 to 31st August 2024 during the pub's regular opening hours. This offer cannot be used on the Greene King app. This offer cannot be used in conjunction with any other deal, including Greene King employee vouchers or Greene King friend & family vouchers. This offer is subject to availability and the manager reserves the right to cancel, amend or withdraw this offer at any time. No cash alternative. This offer is not transferable. Promoter: Greene King Brewing and Retailing Limited, Sunrise House, Ninth Avenue, Burton upon Trent, Staffordshire, DE14 3JZ. The customer may choose one of the following lunch dishes:

| | | |
| --- | --- | --- |
| P&S | FG | PL |
| Sweet Chilli Chicken Ciabatta | Flame-grilled Steak Flatbread | Hunters Chicken Roll |
| Crispy Chicken, Bacon & Avocado Ciabatta | Spicy Piri Piri Chicken Flatbread | Cheese & Red Onion Chutney Roll (v) |
| Plant Based Meatball Marinara Ciabatta | Spicy Vegetable Flatbread | Fish Finger Roll |
| Steak & Cheese Ciabatta | Spicy Hot Link Sausage Flatbread | Southern Fried Chicken Roll |
| Lunch Cheeseburger | | Epic Chip Butty |
| | | Mango Chilli Chicken Kebab |
| | | Louisiana Style Chicken Strips Kebab |
| | | Grilled Halloumi Kebab |

Reduced Festive Fayre Deal Price for Students

You must show a valid student ID to your server to redeem this offer. This offer allows students to purchase a two or three course festive fayre meal or no gluten containing ingredients festive fayre menu at a reduced price per person. UK residents only, aged 18+. All products are subject to availability. This offer is valid from 14th November 2023 to 1st January 2024 excluding Christmas Day, during the pub's regular opening hours. No minimum number of guests required. Available when booked in advance only, bookings must be made at least 7 days in advance. £5pp deposit will be required from all attendees, irrespective of party size, to complete the booking. All deposits are fully redeemable against your final bill. Pre-orders are required and must be provided no later than 7 days before the booking date. Please tell us all allergen & dietary needs upon booking. If for any reason we are unable to host your get-together, we will give you as much notice as possible and if we can't guarantee a new date, and you are not happy to re-book in the future, we will give you a full refund of your deposit and any additional pre-paid packages. If you would like to cancel, please give us 72 hours notice, so we have a chance to re-book your table, then you will get 100% refund, whether that is for the whole party or just a drop in numbers. If any drop in numbers or cancellations happen within 72 hours, no refund is available. This offer cannot be used on the Greene King app. This offer cannot be used in conjunction with any other deal, including Greene King employee vouchers or Greene King friend & family vouchers. This offer is subject to availability while stocks last and the manager reserves the right to cancel, amend or withdraw this offer at any time. No cash alternative. This offer is not transferable. Promoter: Greene King Brewing and Retailing Limited, Sunrise House, Ninth Avenue, Burton upon Trent, Staffordshire, DE14 3JZ. The offer entitles students to the following price:

If your pubs Festive Fayre price is

£11.99 for 2 Courses

£14.99 for 3 Courses

£13.99 for 2 Courses

£16.99 for 3 Courses

£14.99 for 2 Courses

£17.99 for 3 Courses

£16.99 for 2 Courses

£19.99 for 3 Courses

£17.99 for 2 Courses

£20.99 for 3 Courses

£19.99 for 2 Courses

£22.99 for 3 Courses

£20.99 for 2 Courses

£23.99 for 3 Courses

Reduced Student price will be

£9.50 for 2 Courses

£11.99 for 3 Courses

£11.25 for 2 Courses

£13.50 for 3 Courses

£11.99 for 2 Courses

£14.50 for 3 Courses

£13.50 for 2 Courses

£15.99 for 3 Courses

£14.50 for 2 Courses

£16.75 for 3 Courses

£15.99 for 2 Courses

£18.50 for 3 Courses

£16.75 for 2 Courses

£19.25 for 3 Courses