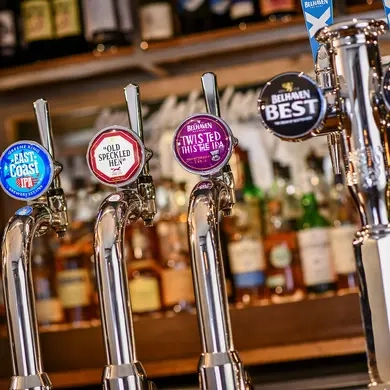 Our Relentless Focus on Quality
We are firmly focused on brewing and serving the best quality beer you'll find.
NATURAL INGREDIENTS AND QUALITY CONTROL DURING BREWING
We know how important the ingredients are to the quality of our ale. That's why all our beer is brewed using natural, hand-selected ingredients – from the water we extract from our chalk wells in Bury St. Edmunds to our East Anglian barley, our hops and, of course, our all-important yeast.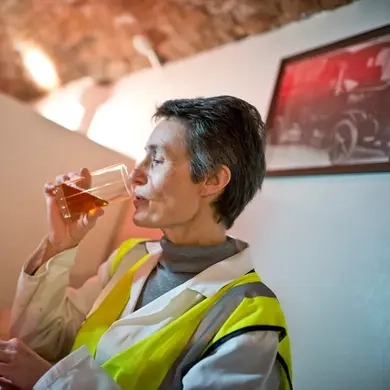 What's more, we use rigorous quality control during the brewing process. Our ales are tasted between five and eight times during the production to ensure that we consistently achieve the best quality. It's a tough job, but someone's got to do it!

Keen to find out more? Why not book a spot on our Brewery tour and see it all!

OUR QUALITY ACCREDITATIONS AND TRAINING
Cask Marque
You know you'll get a perfect pint if you see the Cask Marque sign above the bar. For a pub to achieve the accreditation, it must pass regular, unannounced checks by an independent assessor for the temperature, appearance, aroma and taste of all cask ales on sale. Many of ours are already Cask Marque pubs and we're continuing to support the rest of our pubs so that they too can proudly display the sign.

Greene King IPA Quality Accreditation
In association with Cask Marque, we also award a Greene King IPA accreditation to IPA stockists who demonstrate a commitment to quality. Assessors look for availability, advocacy, care and the perfect serve. Look out for the 'Quality Assured' wall plaque when you order your next pint of Greene King IPA!

Grade 'A' – British Retail Consortium Global Food Safety Certification and Red Tractor Certification
Both our breweries – in Bury St. Edmunds and Dunbar – hold a grade 'A' British Retail Consortium Global Food Safety certification. We don't expect anything less!

We were the first UK-brewer to be awarded the Red Tractor certification for all our beers. The Red Tractor logo confirms that we meet the comprehensive standards for traceability and food safety and hygiene. In other words, you can be sure that we use quality ingredients to craft our beers.

Beer Genius
We're proud to offer free training on our Beer Genius website. Designed for those in the beer industry, you can learn all about how to achieve the very best quality when you store, serve and manage your ales. So, what's stopping you from becoming a beer genius?