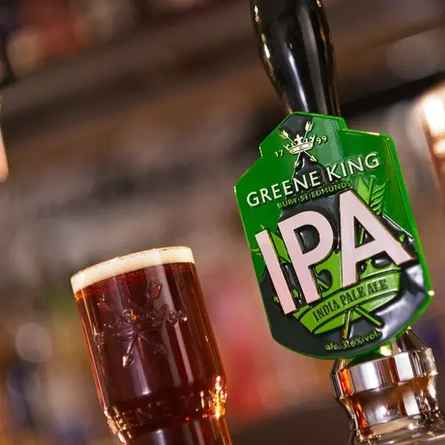 Greene King IPA
Our heritage, our passion, your IPA.
Our flagship beer: the fastest selling cask ale in the UK
Greene King IPA is our flagship beer – born and brewed in our hometown, Bury St Edmunds.

We've been crafting quality cask ales at the Westgate Brewery, Bury St Edmunds, since 1799. The roots set down by Benjamin Greene and Frederick King are embedded in the way we make our beer today. Our dedication to brewing hasn't changed and we still apply the same passion and craftsmanship to every single pint of Greene King IPA.

Greene King IPA is a pint people trust and recommend to friends. It's an easy drinking, session ale with a hoppy taste and aroma making it clean, crisp and moreish. That's why more cask ale drinkers prefer the taste of IPA to leading competitors, and it's the fastest selling cask ale. It's award-winning too – picking up a prestigious Gold Monde Award!
Greene King IPA ABV
We have made a slight change to our Greene King IPA ABV (alcohol by volume) in bottle, can and draught, reducing it by 0.2% from 3.6% to 3.4%. Rest assured, despite this small reduction in ABV, Greene King IPA still has the same crisp flavour and hoppy taste.

External events over the past few years have significantly increased costs for all brewers, from the price of energy needed for the brewing process, through to the price of malt, as well as packaging.

The recent reforms to alcohol duty have added to this, so by crafting Greene King IPA to 3.4% rather than 3.6%, it allows us to combat some of these rising costs, while also enabling us to continue creating innovative new beers such as Ice Breaker, Level Head and Flint Eye.

We are proud of our brewers for delivering our 3.4% Greene King IPA, as extensive testing has shown that customers still enjoy the same quality and taste and rated it just as enjoyable.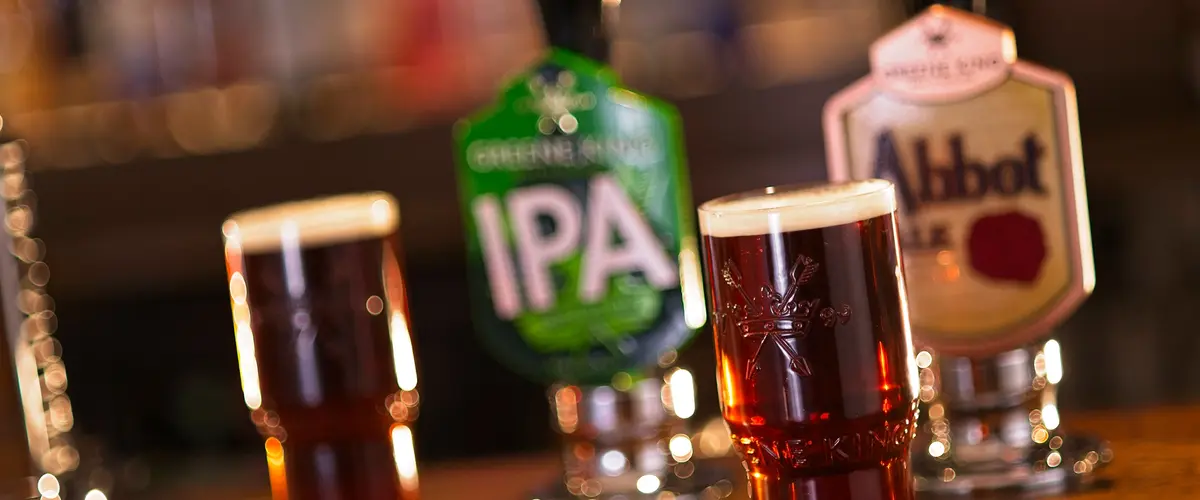 GREENE KING IPA IS MADE WITH 100% NATURAL INGREDIENTS
Greene King IPA contains 100% English natural hops. This is what gives it the clean and crisp taste.

Our brewers still hand-select the ingredients that make our IPA a prize-winning beer. Carefully selected pale, crystal and black malts join with Pilgrim, Challenger and First Gold Hops to make a complex, refreshing ale. The beer is also tasted at every part of the brewing process to guarantee the quality and consistency, and we really take our time over it. It takes 4-5 days to brew Greene King IPA.

Many people are involved in bringing you Greene King IPA – from the farmers in the fields to the brewers back at the brewery and the landlords in the cellars. We're lucky to be surrounded by people who are passionate about what we do and about the quality of beers we craft together.
Tasting Notes
Fresh dry hop, herbal character is provided by the mix of challenger and first gold hops. The use of crystal malt in the grist gives a satisfying toffee/caramel note and the addition of a little black malt adds just enough astringency to give a clean dry finish.
ABV
Bottle: 3.4% | Cask: 3.4%
Hops
Challenger/Pilgrim, First Gold
Food Pairing
A popular, lighter ale that is well matched with curry, spicy foods and lighter blue cheeses.
Bitterness
Sweetness