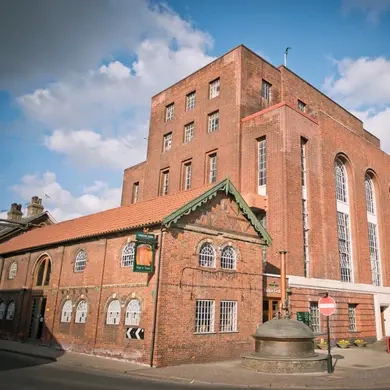 The home of Greene King
Westgate Brewery
Greene King has been brewing quality cask ales at the Westgate Brewery in Bury St Edmunds for over 200 years. There has been a brewery on our site since 1700, but brewing in the town can be traced back as far as the days of the Doomsday book in 1086.
GRAVITY FED BREWHOUSE
Our gravity fed brewhouse was built in 1938 to exceptionally high standards for its time. So well in fact that we still brew in the same building today and use much of the original equipment too!
Our Victorian brewhouse built in 1938 continues to brew all our beers using gravity to pass the ingredients from one floor to the next. All our beer is brewed using natural ingredients and traditional brewing methods.
We still draw our water from chalk wells under the brewery that have been used in brewing for almost 1,000 years. It was good enough for the Benedictine monks of St Edmund and it's good enough for us!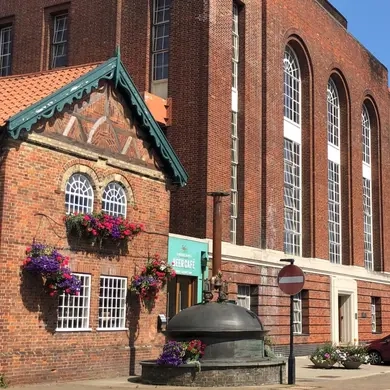 Book a tour
Learn all about our brewing heritage, current brewing set up and of course, enjoy a tutored beer tasting!
In November 2013, we opened a microbrewery here in Bury St Edmunds.

In our St Edmund Innovation Brewery we brew a range of craft beers as well as create and experiment with new, innovative brews.

The microbrewery has a maximum capacity of up to 30 barrels and can create up to eight brews a week. As an entirely manual operation, it's completely reliant on the brewer's craftmanship!
Our team of brewers
It's our team of expert brewers that are the people behind the craft. With the brewery running 24 hours a day, there is always a team of around 25 people making sure each part of the process runs exactly to plan.

Each of our brewers has responsibility for a part of the brewing process – from extracting the liquor and pumping it to the top of the Brewhouse through to mashing, fermentation, bottling, and everything in between.

It's this team who plays a big role in ensuring our beer is of the best quality – not least through the rigorous tasting process that each batch goes through.