Dish Highlights
We've added some tantalising treats to our menu at The Golden Hind!
We've got the brand-new Bacon & Blue Burger oozing with melted blue cheese, a range of ciabattas to upgrade your lunchtime and lots of meat-free delights, including Plant-Based Meatball Marinara and Chicken-Less Tacos.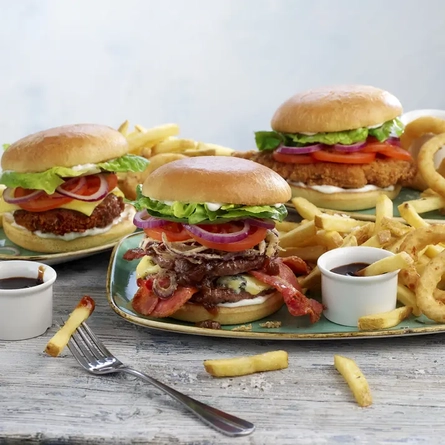 Brand-new burgers
Our Burgers have had an exciting facelift! All our beef burgers are now served as two 3oz* patties smashed on the grill, which means extra juicy flavour in every bun!

We've also added the brand-new Bacon & Blue Burger to the party too! Melted blue cheese, with smoked streaky bacon, crispy onions and red onion chutney – the perfect combo!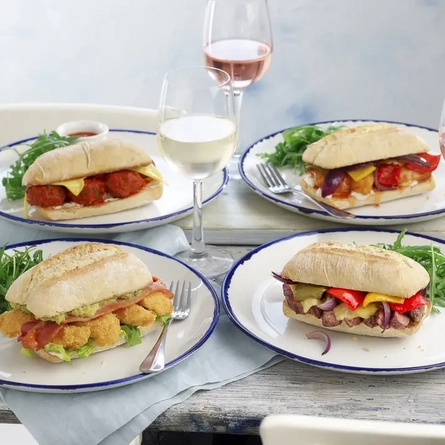 Lunchtime treats
Out with the old and in with our new range of warm ciabattas (and even a cheeky burger!) These delicious new dishes are the perfect thing to keep you going all day long.
Choices include Sweet Chilli Chicken, Bacon & Avocado or Plant-based Meatball Marinara, or a 3oz* beef burger topped with cheese.
Don't forget to add chips and a drink for the ultimate mid-day feast!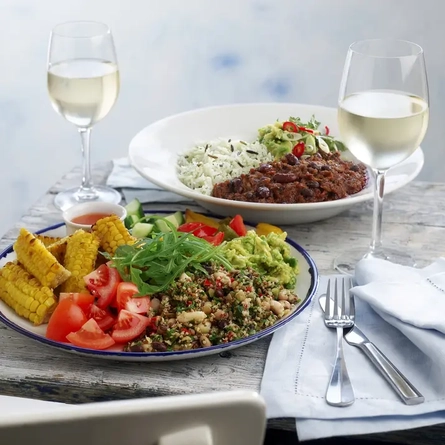 Veggie & Vegan
We've got lots of brilliant new options for our Vegetarian and Vegan friends to choose from! We know it can be a struggle to find tasty meat-free meals while you're out and about, so we're here to help out.
Choose from Plant-based Meatball Marinara, Chicken-less Tacos, Corn Ribs, Pulled Mushroom Chilli or a Super Grain Salad.