Chief People Officer, Andrew Bush, was part of the management team that led Greene King's Covid response throughout the pandemic and put team members' wellbeing at the heart of his role.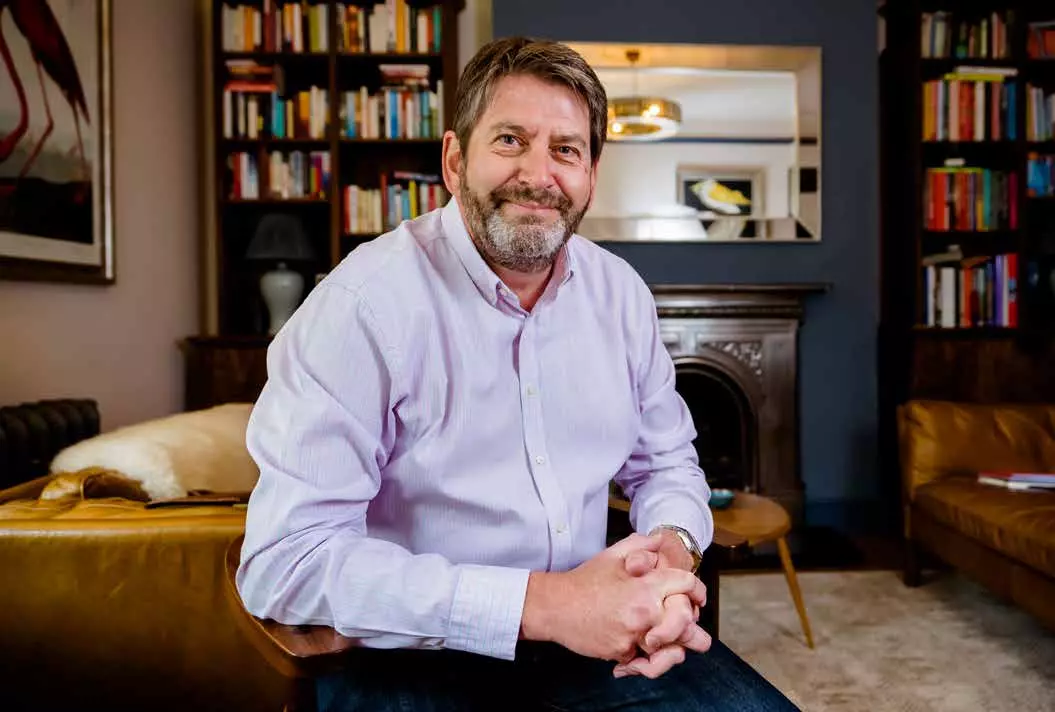 When I first heard of Covid-19 right at the very start of 2020, I thought it can't be that big a deal, can it? But I remember talking to Richard Smothers, our chief financial officer about news of the virus hitting ski resorts in Italy, and I turned to him and said, 'It's coming here, isn't it?' and he replied, 'I think it probably is.' Within a week we noticed a fall in sales in a lot of areas. People's hours were reduced and, understandably, we had some really concerned team members. So, we took the decision early on to pay everyone for their usual average hours until April to take the pressure off. The government hadn't announced the furlough scheme at that point, and I admit I didn't really know what furlough was, I had to google it. Everything was an unknown.
Communicating from Home
After the government told pubs to close, the next day was pretty hectic. My wife went to pick our son up from university as all his friends had already left to go home – I was feeling really concerned about all our young people, actually. Meanwhile, I knew our team members wanted to know about pay if pubs were closed, so I was busy trying to figure out what we were going to say to everyone. We wanted to communicate, but in all honesty, we didn't really know what the near future was going to bring.

I usually work in our offices with just the odd day working at home, so it was strange not seeing colleagues. But in the early weeks of the first lockdown things were actually not unpleasant. I felt this was something that we had under control and my kids were safe at home, none of us were ill, the sun was shining and I wasn't travelling for work every day. I honestly thought things would be alright in a few weeks.
Looking after our people
Of course, the pandemic lasted a lot longer than anyone could imagine. As we began to furlough team members, I had to move between working on big picture planning to dealing with day-to-day issues, like staff holiday pay. We all had to do what was necessary and important for our teams. I spent a lot of my time managing the complexities of furlough and working out how to apply these new schemes and making the right decisions for our people. And as the year progressed, the pressure grew: we had to make the very difficult decision to close some of our pubs and keep redundancies to an absolute minimum by redeploying our teams, where possible. In fact, Covid-19 has really brought it home to me that whatever we do it has to be done with a sense of responsibility to our people.

We knew how important it was to support our teams' wellbeing at all times. One of our key objectives was to, as far as possible, protect our employees from the worst impact of the crisis, whether that might be social isolation, financial hardship, health problems or loss of loved ones due to the virus. So we put a wellbeing programme in place right from the start of lockdown one. We created a wellbeing section on our Kingdom app and started a programme of content focusing on four key areas – financial, family, physical and emotional. We held virtual fitness classes, competitions to give away wellbeing-themed prizes and encouraged managers to keep in touch with furloughed teams. Our HR business partners spent a lot of time supporting people, responding to queries on Kingdom almost 24 hours a day. I'm really proud of them for that.
Tackling money worries
Financial hardship was a real challenge for many. We set up the Support Fund and also sped up the roll out of the Wagestream app. It enables people to access their salary whenever they need to, rather than wait until the end of the month, and helps avoid the use of high interest payday loans. We soon had around 30,000 employees accessing it, with around 7,000 using it to save, thanks to its tools which help people to budget and manage their money. A lot has come out of the pandemic that we, as an organisation, can be proud of. There have been plenty of opportunities for people to take a step back, but there's a heartening number of people who took a step forward – and in some cases, 10 steps – to say, 'I'll do that.' I'm looking ahead to the future with a fresh perspective and a positive heart.