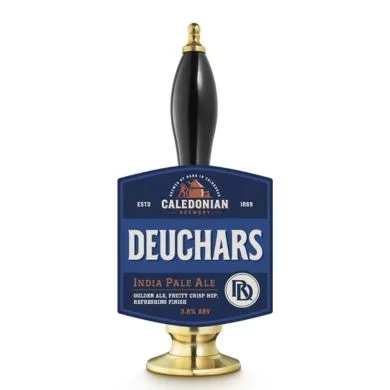 Deuchars IPA
Discerning beer drinkers consider the award-winning Deuchars to be the benchmark in quality cask beer and for those starting out on a cask adventure, it's the perfect introduction.
THE WORLD-BEATING BEER.
Deuchars is utterly iconic. And we've got the trophies to prove it. It's won over 40 awards, including CAMRA Supreme Champion Beer of Britain and World Champion Cask Ale.
Tasting Notes
Rich in character and long on refreshment. Solid gold in colour, strongly aromatic, with hints of fresh citrus. The distinctive light malt and fresh floral flavours combine with the zesty citric hop to deliver a mouth-watering adventure.
Food Match
This hoppy refreshing ale is perfect with spicy dishes curries, or anything with a kick. However, it also goes brilliantly with cheese, meat and shellfish.
Nutritional Info
Ingredients: Water, malted barley, hops, yeast

Allergen information: Allergens are underlined and highlighted in bold

Alcohol by Volume: 3.8%
Nutritional Values
Per 100ML
Energy
149KJ / 36KCAL

Fat

of which saturates

0g

0g

Carbohydrate

of which sugars

3.4g

0g

Protein
0g
Salt
<0.1g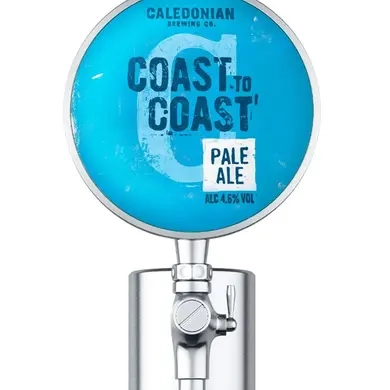 Coast to coast
From the hot bed of the West Coast hop scene to our Eastern Shores, comes this pioneering American Style Pale Ale. Combining six hops from the Yakima Valley with our very own East Coast Maritime malt.
TRAVEL COAST TO COAST
Centennial, Columbus, Simcoe and Cascade hops form the character of this innovative new brew. A remarkably well-balanced, characterful beer with bold flavours complemented by a smooth and well-rounded bitter finish.
Tasting notes
A polished bronze ale with piny, soft fruit and citrus aromas all with a hint of spice. The taste is hoppy, with luscious lime, passion fruit and some kiwi-fruit notes. With a smooth, rounded and bitter yet tantalisingly zesty finish.
Food Match
The citrus and pine aromas of Coast to Coast are a perfect match for meat and fish recipes that are infused with herbs and spices, in particular, Asian inspired delicacies.
NUTRITIONAL INFO
Ingredients: Water, malted barley, hops

Allergen information: Allergens are underlined and highlighted in bold

Alcohol by Volume: 4.6%
Nutritional Values
Per 100ML
Energy
188KJ / 45KCAL

Fat

of which saturates

0g

0g

Carbohydrate

of which sugars

4.5g

0g

Protein
0g
Salt
<0.1g