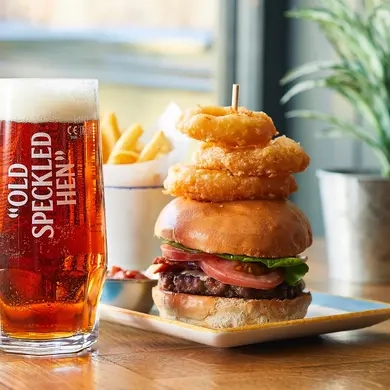 Old Speckled Hen
A distinctive rich malty taste bursting with toffee character, fruity aroma and deliciously smooth.
This great British ale was first brewed in 1979 to commemorate the 50th anniversary of the iconic MG car factory in Abingdon, Oxfordshire.
And what a celebration! Auburn and copper on the eye; malty, toffee notes on the nose; and then a further lovely helping of malt in the taste, with distinctive hints of caramel balanced by a touch of fruit. As English as English can be.

The secret to its success? Crystal and pale malts first and foremost, plus our Master Brewer's blend of Pilgrim, First Gold and Goldings hops. Especially fine with full-flavoured meats, roasts, sausages and pies.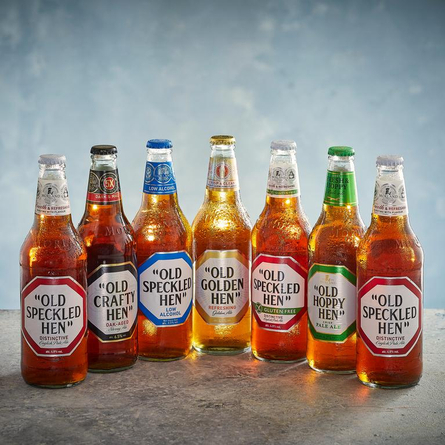 ABV Update
You may have seen we've made a slight change to our Old Speckled Hen bottles and cans' ABV (alcohol by volume), reducing it from 5% to 4.8%. Rest assured, despite this small reduction in ABV we are still delivering the same full flavour and refreshing taste of Old Speckled Hen. We are extremely proud of our brewers for achieving this and extensive testing has shown that customers still enjoyed the same quality and taste and rated it just as enjoyable with a 0.2% ABV reduction.

Events of the past few years have significantly increased costs for all brewers, from the price of energy needed for the brewing process, through to the price of malt, as well as the glass, cardboard, and aluminium we need for our packaging.

As we face these financial challenges, Greene King continues to look at ways we can absorb those increasing costs to ensure we continue to offer our customers the same great value and taste of Old Speckled Hen. Reducing the ABV is one way we can do this, as it lowers the duty we pay without noticeably affecting the beer's flavour, and helps offset some of the rising cost of brewing our beers.
Tasting Notes
A high proportion of Crystal malt in Old Speckled Hen provides the key toffee/caramel flavour. The yeast used to ferment the beer provides the other key character - estery or banana/pear drop. This estery note provides the fruity and refreshing balance. The hops used add a palate cleansing herbal note and very slight orange citrus. A very malty, full bodied and warming ale.
ABV
Bottle: 4.8% | Can: 4.8% | Keg 4.5% |Cask: 4.5%
Hops
Pilgrim, First Gold, Goldings
Food Pairing
Perfectly complements tasteful, quality British foods, premium pies, gravies, sausages and weekend BBQ's. Works perfectly with Sticky Toffee Pudding too!
Bitterness
Sweetness
We have a great range of eye catching point of sale, including pint glasses, beer mats, bar runner, keg font hanger and oval and ellipse keg lens.