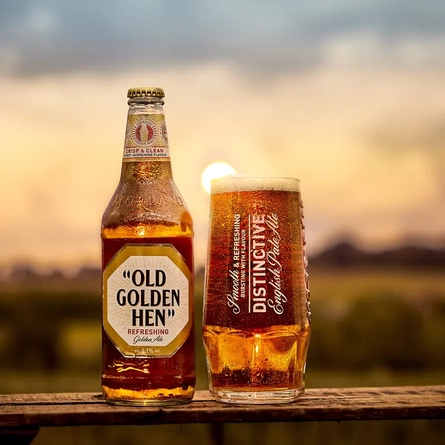 Old Golden Hen
A light and refreshing golden beer with subtle tropical fruit notes and a deliciously smooth finish.
Old Golden Hen captures a celestial ray of sunshine in the form of a rare and very special Tasmanian hop called Galaxy. The result is a triumph for its sheer powers of refreshment.
Hold it up to the light before tasting, and savour its bright golden glow. Spot, if you care to, the note of grapefruit and mango on the nose and then sip. Malty sweetness, a hint of tropical fruit and a clean finish: out of this world.
Tasting Notes
Very fragrant from the aromatic hop varieties used, light and easy to drink with a good level of bitterness to provide a crisp finish to balance the sweet impact of the quite intense tropical fruit flavour.
ABV
Bottle: 4.1% | Cask 4.1%
Malt
Pale malt, Amber malt
Hops
Cascade, Galaxy, Willamette
Food Pairing
A flavoursome refreshing beer that accompanies fish and light salad dishes with bacon and chicken.
Bitterness
Sweetness