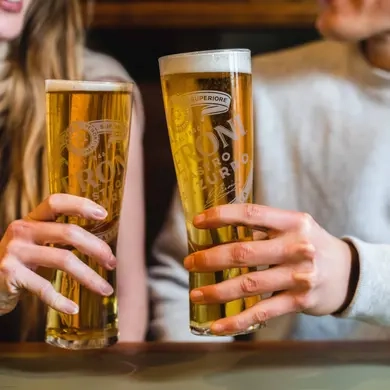 Alcohol and the law
Alcohol is a regulated substance to protect people's health and young people.
Over 18s Only - Tackling Underage Drinking
It is against the law to sell alcohol to anyone under 18 years old. It is also illegal for an adult to buy alcohol or try to buy alcohol for under 18s. It is illegal for an under 18 to try to buy or buy alcohol. Beware: there are hefty fines for anyone breaking these laws.

At Greene King, our Enjoy Responsibly policy means no one under the age of 18 can consume alcohol on any of our premises. We believe this is the responsible approach.


See the government's rules on alcohol and young people
Remember: Prove it. You could be asked for ID to prove you are over 18 when you want to buy alcohol.

We have a Challenge 21 or Challenge 25 scheme which runs in every Greene King bar reminding team members to check customers' ages.

Acceptable ID includes a valid photo driving licence, passport or proof of age card with the PASS hologram or military ID.

Remember, if you can't prove you're 18 or over, you can't buy alcohol and we can't sell it to you.
Drinking in Public Places
There are rules and regulations which you need to remember if you want to drink in public - on public transport or in public parks, for example.

It is illegal for anyone under 18 to drink in public. If you are over 18, drinking in public may be restricted under a Designated Public Place Order (DPPO).

Councils can also use Public Space Protection Orders (PSPO) to restrict drinking in certain areas. The police can ask you to stop drinking and failure to do so could result in a fine or arrest.
Drinking on Public Transport
As the law stands, you can drink and buy alcohol on trains. There are some restrictions when train operators choose to run 'dry trains', for example to and from sporting events. In Scotland, drinking on trains is banned from 9pm to 10am.

In London, TFL has a policy which bans people from drinking or carrying open containers of alcohol on any tube trains, buses, trams or Docklands Light Railways.